Grief but not as we've known it. A bird in a cage and a magical wishing horse. Panic attacks, supermarket trips and high expectations. Sex, love and loneliness in solitude. Envisioned futures worth hoping for?
Sometimes claustrophobic, sometimes sad and sometimes wistful, this collection of 20 pieces of poetry and prose, real life and fiction is shot through with love and humanity. The first publication of our not-for-profit Birch Moon Press, 'Heartache and Hope' gathers a range of women's voices on life under lockdown.
Download your copy right now for just £2.99, to any mobile device, by clicking "buy". You will be taken to PayPal and once your purchase has been confirmed, you'll be given the option to download a .mobi file (for kindle) or .epub file for Apple Books and other reading devices. The process should take less than one minute and is encrypted for security. Check out our step by step download guide, should you need it.
We are a not-for-profit press and downloading Heartache and Hope directly means that we would not pay commission to a third-party distributor. Which, in turn, means raising even more money for our chosen charity Rosa, to whom we are donating 100% of the profits from this anthology. Alternatively, you can purchase Heartache and Hope from the major online bookstores listed here.
If you would like to purchase a printed copy of Heartache and Hope, please sign up to the waiting list below: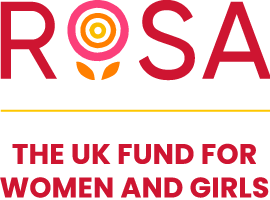 Rosa is a grantmaking charity funding grassroots women's organisations to make the UK a fairer, safer place for women and girls. Over the past 12 years, Rosa has funded a breadth of specialist women's organisations and services across the UK working on: economic justice, health and wellbeing, leadership and representation, and safety.
Most recently, Rosa launched an Emergency Fund for BME Women's Organisations, in partnership with Imkaan, to secure funding for its Covid-19 Response Fund. Rosa's network of grantees include organisations led by and for BME women, deaf and disabled women, LGBTQI+ communities, survivors of gender-based violence, and more – many of which have been marginalised and excluded from existing funding systems.
A-Z of contributing authors to Heartache and Hope
Rachael B is a writer, poet, communications consultant and personal coach based in London. The thread that runs through all of these roles is connection. She has been writing poetry and stories for as long as she can remember, and although she has had a few poems published in anthologies from her days on the spoken word scene, this is her first published short story. She welcomes anyone who connects with "Once a Day" on a personal level to get in touch if they are moved to do so. You can reach Rachael on Twitter.
Maddy Bennett is an artist, writer and mum of three boys. She lives on a windy hillside in Northumberland where she creates drawings and linocuts for various people and projects – including her greetings card business, Helena Handcart – and pens occasional poems and short stories. She can often be found reading, wandering down country lanes and wondering who ate all the crisps. You can browse her portfolio on her website and follow her on Instagram | Facebook and Twitter.
Micha Colombo is an actor, writer and voice artist based in the South-West. She is particularly interested in stories that explore female voices and experiences. She has mainly been spending lockdown playing the role of UN peace-keeper to her three young kids, attempting to grow vegetables and slowly losing track of time. You can follow Micha on Twitter and Instagram.
Reneé Davis lives in London with her husband and three home educated children and blogs at Mummytries about their roller coaster life. She likes to keep things real in a world that is overly curated and is doing everything in her power to give her kids a childhood they don't spend a lifetime having to recover from. Reneé's autobiographical self-help book Become the Best You details her own dysfunctional upbringing and how she turned her life around after mental breakdown and rock bottom. Reneé is also a gut health and fermented food advocate and loves nothing more than cooking up a storm. You can follow her all over social media @mummytries.
Iona Fraser lives in mid Sussex with her family. Her background and work in foraging and mycology heavily influence her writing style. She is currently writing a novel, which she hopes will be published in the next year (or two).
Luisa Giordano is a mum of four children, wife, teacher, trainee therapist and an ad-hoc writer of poetry. She writes to make sense of herself and the context of her life – and it gives her great pleasure to do so.
Laura Hanna is a British-Egyptian actor, singer, theatre-maker and writer from London. She has a degree in English Language and Literature and trained at LAMDA. Born from her love of collaborative, multi-disciplinary work, she has recently begun writing, so far attempting poetry and drama. She also contributes to The Pitch Process, which she co-founded in 2018 to provide coaching in communication and presentation skills for charities and organisations. You can find Laura on Instagram and Twitter.
Kamsin Kaneko is a writer, mum, teacher, and traveller (not necessarily in that order). She has lived in China, Japan, Bosnia, her native UK and currently, calls Singapore home. She holds an MA in Applied Linguistics and TESOL. She writes about living across cultures and the power of creativity to transform your life. You can find her on Instagram most days capturing small moments of beauty in the urban jungle of Singapore. Visit Kamsin's site for freebies and to learn more about her writing.
Sophie Lovett is a mother, writer, teacher and activist currently living in Devon where she home educates her two boys. As well as writing fiction, Sophie blogs about alternative approaches to parenting and education at Raising Revolutionaries and is currently working on a book of the same title. When she's not doing any of this she is most likely to be found swimming in the sea and dreaming of the better world we all know is possible. You can connect with Sophie on Instagram and Twitter.
Chrissie Metcalf is a writer, mother and tech geek from the South Coast of the UK. An avid fan of NaNoWriMo, she writes at least one first draft of a novel per year and is working towards making them beautiful enough to be published. 2020 is her second year in the Romantic Novelist's Association New Writers' Scheme. When she's not writing, she's experimenting with new technology, knitting, and talking about life with mental illness.
Alice Speirs is a wife, mother and writer. She's woven her way back to a childhood love of writing from her former career as a nurse. She writes occasional poems and prose but is mainly working on her first novel. When not writing, or child wrangling, she can either be found outside in nature or indoors with a book. You can find her on Instagram.
Jo Winwood is a retired secondary English teacher who has invented people and stories since she was old enough to skip across the room and entertain an audience. She writes flash fiction, short stories and is currently writing her second novel. She is originally from Birmingham but now lives in Oxfordshire, the county of her mother's birth, with her family and cats. (Funny how things come full circle.) You can follow Jo on Twitter and through her blog Jo's Writing Space.
Nikki Young is a freelance writer, author and editor. She lives in Kent with her husband, three children, a crazy Boston Terrier dog and a needy rescue cat. Nikki is the author of children's books The Mystery of the Disappearing Underpants, Time School: We Will Remember Them and Time School: We Will Honour Them. In addition to writing middle grade and young adult fiction Nikki runs, Storymakers, a creative writing club that provides weekly groups, holiday workshops and 1:1 tuition for children aged seven and above. You can learn more through Nikki's website and social channels Instagram | Facebook and Twitter.
Get in touch with us on social media @birchmoonpress and tell us what you think of Heartache and Hope!